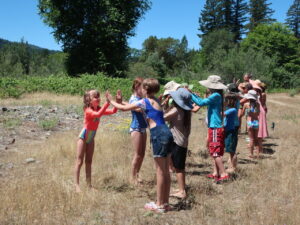 Nestled within the scenic backdrop of Grants Pass, Oregon, Madrona Folk School serves homeschooling families with connection, creativity, and inspiration. Offering high-quality supplemental classes for homeschool learners, this school seeks to inspire and cultivate their inner motivation to learn and gain mastery in any given subject.
Madrona Folk School offers academic-based supplemental classes, such as Books and Writing, Real World Math, and Conversational Spanish, as well as classes on fine arts, crafts, performing arts, and land-based living skills, such as Improvisational Theater, World Music Choir, Baking, and Herbal Crafts. During the summer, Madrona Folk School offers camps to all youth in Grants Pass and its surrounding areas in southwest Oregon. Here, learners connect with nature and each other through rafting trips on the Rogue River, art, poetry, and music classes along the river, outdoor yoga, and science in a real-world setting.
"Our basic tenets for behavior in the classroom include: care for self, care for others, and care for the environment," says Dove Oldham, founder of Madrona Folk School. This approach involves not only respecting others' safety but respecting one's own emotions and needs for space or time, asking questions and exploring curiosities, asking for help, celebrating success, and having fun learning. "We do not use rewards or punishment to motivate cooperation and learning experiences….We believe that positive relationships, group belonging, words of appreciation, having fun, and gaining new skills are the inherent rewards of learning."
Because Madrona Folk school centers connection and relationships in their education, their curriculum also teaches the principles of emotional intelligence and how to form and maintain healthy relationships. This includes identifying emotions, building learning spaces with emotional safety and personal connections, and sharing proactive ways learners can resolve tension and conflict.
The Next Step grant that Madrona Folk School received from VELA will allow them to expand their programming to three full days, pay their teachers a living wage, and provide partial scholarships to families in need.