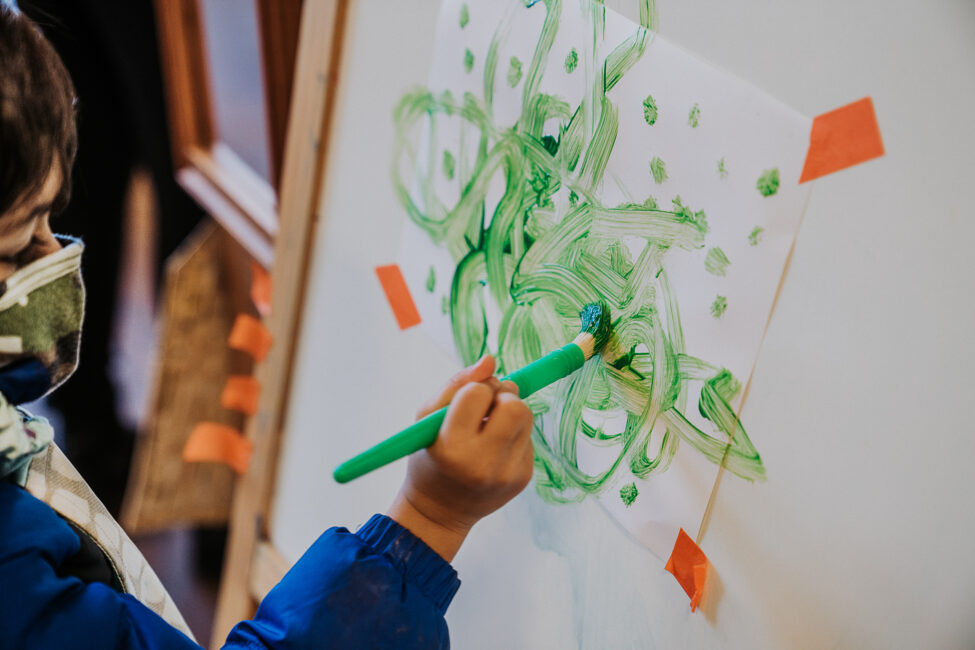 Upcoming Events
VELA is hitting the road to uplift and learn from our dynamic community of education entrepreneurs, spark new conversations, and make new friends! Get the latest information on where we'll be below.
VELA at ASU + GSV Summit 2023
April 17-19 in San Diego
Are you heading to the ASU + GSV Summit this year? Join us on Monday, April 17th for two panels featuring unstoppable entrepreneurs from the VELA community and VELA's CEO Meredith Olson!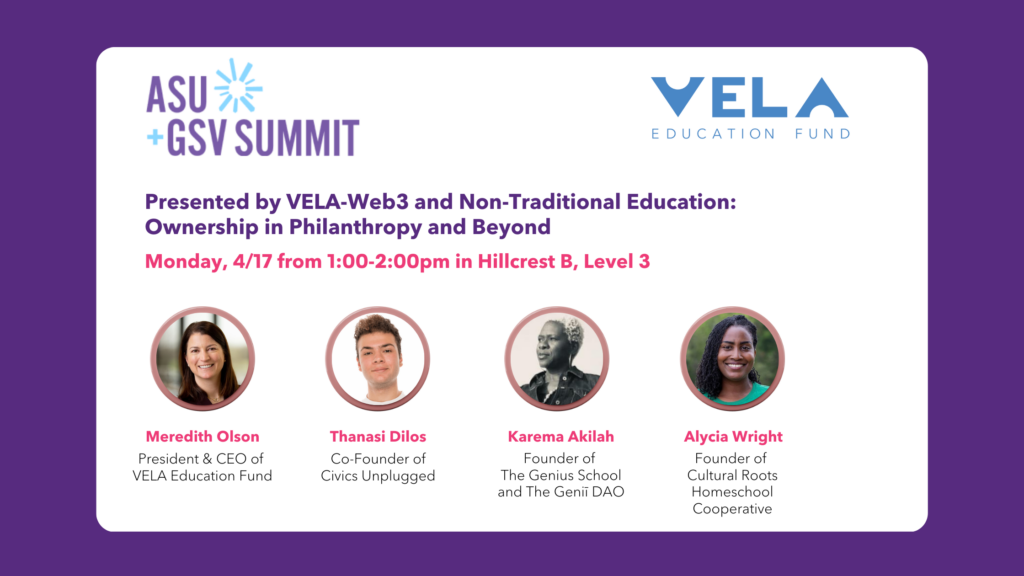 Presented by VELA-Web3 and Non-Traditional Education: Ownership in Philanthropy and Beyond
Monday, 4/17 from 1:00-2:00pm in Hillcrest B, Level 3
Bottom-up solutions led by everyday entrepreneurs have the potential to be transformed when these leaders have decision-making power over funding. VELA Education Fund is piloting a DAO experiment in collaboration with Civics Unplugged and DreamDAO, which was behind the ConstitutionDAO campaign in Fall 2021. The VELA DAO will create a space for shared values, goals, and responsibilities.
Learn more here!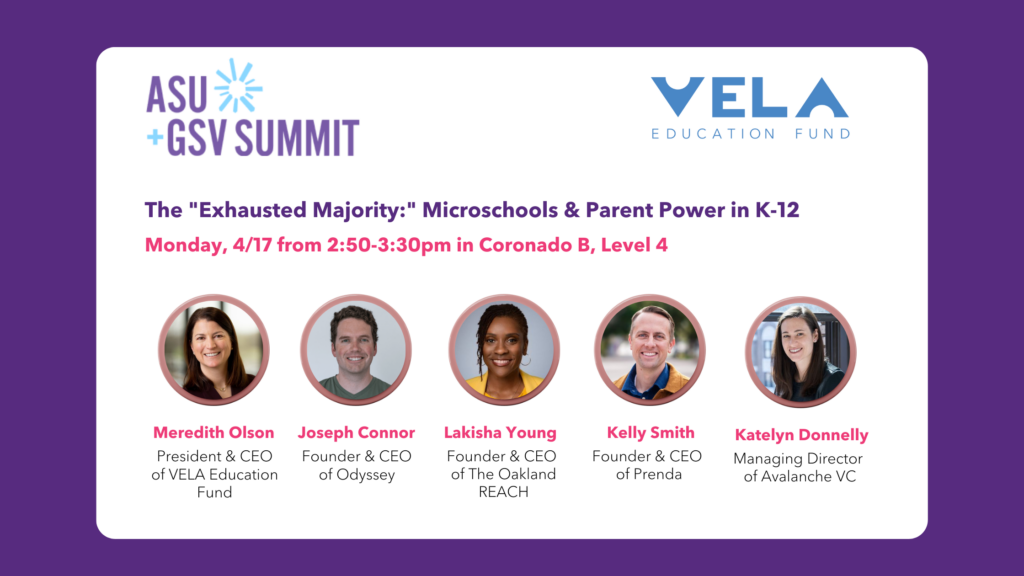 The "Exhausted Majority:" Microschools and Parent Power in K-12
Monday, 4/17 from 2:50-3:30pm in Coronado B, Level 4
On the heels of the pandemic, parents are clamoring for greater ownership over their children's K-12 voyage: more than 50% prefer to direct and tailor their child's experiences and 80% believe learning can and should happen everywhere. How can we invest in a more equitable and student-centric K-12 ecosystem that gives parents the programs and tools needed to realize these aspirations? From blended learning models to micro schools and enrichment services, the field has never been as ripe for innovation as it is now.
Learn more here!
VELA at SXSW EDU 2023
March 6-8th in Austin, Texas
Thanks for joining us at SXSW EDU this year! Click on the links below to watch our panels. We're already excited about next year!
Remember to follow us on social and sign up for our newsletter to stay on top of the latest news and events!
Insights from the Out-of-System Space
Tuesday, March 7th
11:30am-12:30pm in Salon C at the Hilton Austin Downtown
Families have been doing "school" differently for decades, and the pandemic accelerated this movement even more. Whether through homeschooling, microschools, virtual options, co-ops, or a combination, more and more families are pursuing models aligned with their values and priorities. With all the recent talk of changes in education, what's really happening outside of the traditional classroom? VELA Education Fund recently released a report surveying over 400 providers in the out-of-system education space. Hear from practitioners about successes, barriers, and lessons learned. WATCH IT HERE!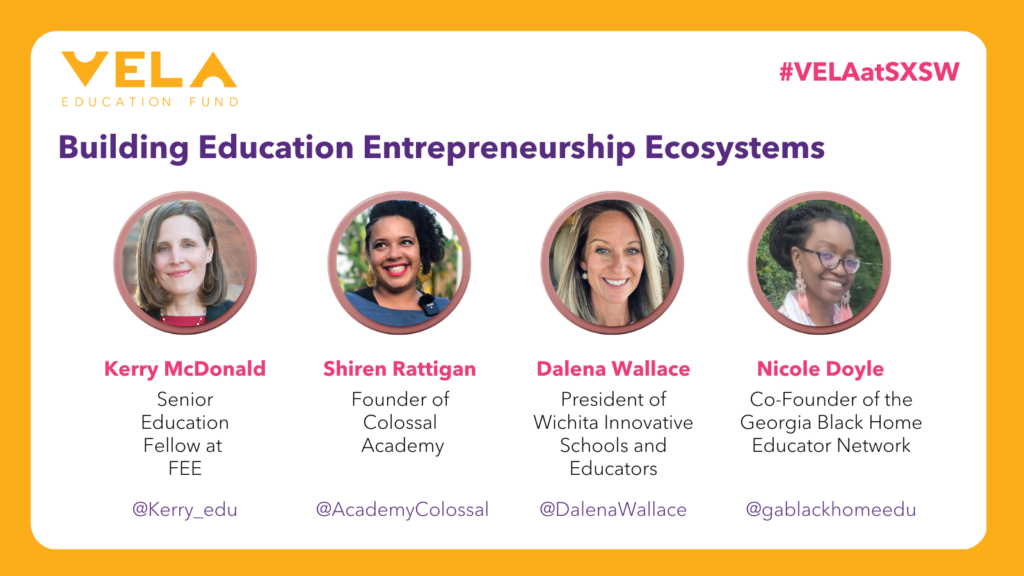 Building Education Entrepreneurship Ecosystems
Tuesday, March 7th
1:00-2:00pm in Salon C at the Hilton Austin Downtown
From Wichita, Kansas to South Florida to Metro Atlanta, education entrepreneurs are mobilizing their peers for collaboration, cooperation, and support. As any entrepreneur knows, starting a business can be a lonely endeavor. For educators, many of whom are transitioning from traditional school systems to start their own learning environments, entrepreneurship presents many hurdles. VELA's grant recipients have created dynamic, thriving communities around the country to get better together, and others can learn from these growing ecosystems. WATCH IT HERE!
Keep updated on where we'll be!
Sign up for our newsletter to stay on top of the latest news and events!