VELA Education Fund recently released Classrooms Anywhere, a 32-page analysis of survey response data collected from more than 300 students, parents, educators, and community members who are leading nontraditional education programs across the country. The research represents the most comprehensive look available at grassroots educational initiatives that operate beyond the traditional system to meet learners' and families' needs, an area that is experiencing enormous growth.
Among the themes most prevalent among the thousands of responses analyzed:
Nontraditional learning is diverse and dynamic.
Everyday entrepreneurs are motivated to reimagine learning.
Nontraditional models prioritize human flourishing.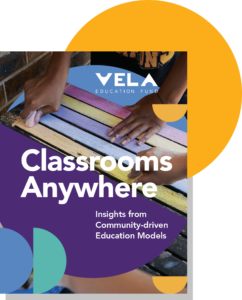 Classrooms Anywhere is based on a 2021 survey VELA conducted of recent Micro grant recipients to gain an understanding of their values, their desired impact, and the resources needed to continue providing programs that meet their learners' and families' needs. The report summarizes key findings from 323 survey responses.
Examples of everyday entrepreneurs in VELA's community include Alycia Wright, founder of Cultural Roots Homeschool Co-op. Wright, a mom of four and a former teacher, chose to homeschool her children to help ensure they received a comprehensive educational experience.
"We have been steadfast in this homeschool journey eight years now," said Wright in a recent video released by VELA, Homeschooling from Coast to Coast. "I love that we get to spend so much time together. I think we all want those connections, it's just that we get all caught up in the hustle and bustle of everyday life."
According to Classrooms Anywhere, grantees are intensely focused on empowering and engaging families to make more direct decisions about learners' education. Students' behavior is observed to understand learners' success, and entrepreneurs make modifications accordingly. Just 11 percent of grantees reported using standardized tests.
The report also describes how educators and policymakers can make it easier for more families to choose educational programs that they believe are best for their children. Helping families shoulder the financial burden of nontraditional approaches to education could increase access, and regulations that offer more blended opportunities – for example, for a student to take some classes in a traditional public school and some classes through a homeschool co-op – could promote broader participation.
The initial online survey was designed primarily to capture qualitative data from grantees so that VELA's analysis would be driven by the respondents' own words. Thousands of answers to open-response questions were analyzed, coded for key concepts, and organized into distinct themes.
VELA hopes to follow up on Classrooms Anywhere by exploring research topics that its grantees are interested in, including program design and learners' and families' motivations for choosing nontraditional education programs.
All of the photography featured in Classrooms Anywhere is of VELA grantees.