About a decade ago, when Stephanie U'Ren was teaching high school English classes, she was known for doing things differently.
"I took my kids out into the courtyard all the time, we had clipboards and we'd learn out there," said U'Ren. "I had a reputation for it."
U'Ren was trying to meet her students' desire to move and explore settings beyond the classroom and her own desire to be in nature. Ten years and three kids later, U'Ren is still at it, now as the founder of Oak Ridge Academy, a microschool outside Austin, Texas that embraces outdoor learning in ways U'Ren once only dreamed.
"I needed to start my own school that allows kids to climb trees," she said.
Oak Ridge launched in January 2022 with 16 learners between 5-14 years old. The school operates on five acres, and the students explore every one of them.
"We give them a ton of free time," said U'Ren.
From starting at 9:00 am to ending at 4:00 pm, a school day at Oak Ridge looks something like this: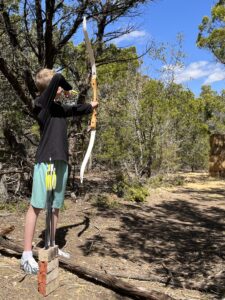 Launch, a time for U'Ren and the Oak Ridge Guides to introduce new concepts to the students
Socratic Seminar or debate
Break, when students can go outside
Wondering Lab, when students can earn badges for demonstrating mastery of concepts and topics that make them curious
Lunch, 90 minutes when the students can explore and connect with nature, by using rock climbing holds that are installed in a tree, practicing acrobatics on the silk swing, tending to animals in the farmyard, or entertaining themselves and their peers amidst the natural landscape
LEAD groups; LEAD stands for Learn Explore And Demonstrate, and these student-led groups explore a project for six weeks. Examples include Slime Science, Sugary Sweets (learning chemistry by making candy), and Archery (learning history by studying how bows have been used over time)
Yard hour, when families are invited onto campus to play with their children (and the school's chickens)
U'Ren is intentional about making the school accessible, offering a sliding-scale tuition model so the school can be an option for single-income families. She also wants to grow by adding high school-aged students.
"I want more of those learners to know there's an option, and for their parents to know," U'Ren said about teenagers. "They've gotten into the traditional routine. I want them to know there's more freedom."

Learn more about Oak Ridge Academy: Website | Facebook | Instagram