In 2020, as the murder of George Floyd and other unarmed Black men gained national attention, more and more adults started reading about anti-racism. Where, wondered parent Alexandria Scott, were resources for kids?
Scott, a former teacher, decided to create them. She launched a crowd-funded campaign to launch Ditto Kids, an anti-bias magazine for kids. Her Kickstarter campaign blew past its $40,000 goal in under three weeks, and she ended up raising nearly $60,000. 
"I was actually working on it for about three years before we put it on Kickstarter," Scott told Refinery29. In an interview with the magazine of her alma mater, Brigham Young University, Scott said, "I just kept thinking to myself, 'Do people want this?' I would go back and forth, but then I'd think, 'No, there are so many people out there who want to teach their kids and just need a little help.'"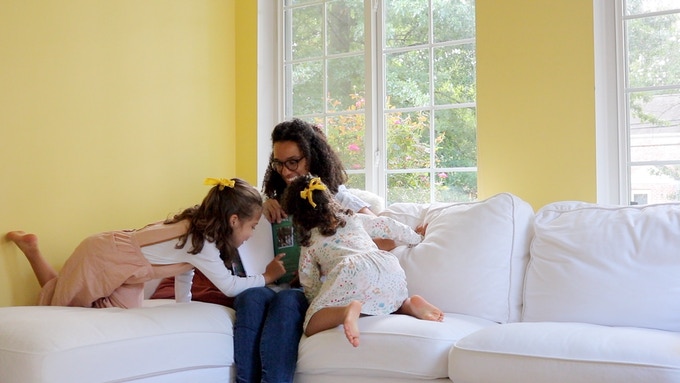 So far, Scott has shipped two issues of the magazine to families and schools across the country. Children ages 4 and above are the primary audience. "It's used across the education spectrum," she said. "Private schools, public schools, Waldorf, Montessori, unschool, homeschool."
Scott, a Black woman with four biracial children, did not plan on becoming a magazine publisher. She studied political science at BYU and taught English as a Second Language before working for non-profits like the Boys & Girls Club. Then she decided to launch Ditto Kids and tackle all of the challenges that went with it.
"So I wrote the magazine and I looked on Instagram to find illustrators who I felt matched the ethos of the magazine and would help relay the feeling and the intent that we were hoping to communicate," Scott told Refinery29. "Then, I needed to lay it out. I did a lot of YouTubing of how to use InDesign because I'd never used it before, so that was fun."
The result is a colorful magazine with content intended to help parents help their children. Each issue focuses on a value, like belonging, as well as other cultures and experiences. A children's author moonlights as a guest editor.
Because the magazine launched during COVID, Scott made sure to focus a lot of content on feelings and self-love. (She also made sure to start slowly–with two issues per year–and then scale.) Each issue includes articles to read and activities to complete. Empathy is a common theme.
As Scott described on her Kickstarter campaign, "Ditto Kids help parents, teachers and community leaders have the important but tricky conversations with kids about racism and injustice in the world. These conversations can be done in a way that doesn't scare kids but empowers them and equips them with knowledge, love for themselves and love for others."