At Strike School, an online education program that offers a virtual classroom, personalized learning coaching and homeschool help, students are given the flexibility to learn whenever and wherever works best for them with teachers that will cater curriculum specific to their needs.
"We've diversified our whole concept around the needs of the parent and the student," said Shahla Lodhie, the Oregon-based founder of Strike School. "Whatever they do after high school they will be well prepared."
Strike School serves K-12 families nationwide by providing virtual classes, learning coaches, one-on-one meetings, and performance monitoring. But they know supporting students doesn't end with academics.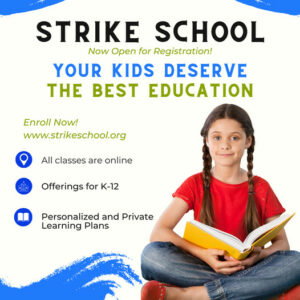 "We will find people to identify resources in a community and/or virtual resources," said Lodhie, "from tutors to food banks, anything that will hinder learning abilities."
"This whole mission is from the heart, from a passion," says Jay Hockensmith, co-founder and Director of Strike School. "Parents of students learning at home often lack the skills and confidence for the successful education of their children."
Students at Strike School also don't miss out on the fun social activities that traditional students experience. They can participate in virtual activities designed to bring them together and celebrate learning through virtual assemblies, Spirit Week, a digital yearbook, and a virtual, interactive graduation ceremony.
"I believe that individualization is of the utmost importance in education, and I love the way that it is offered in such a rich setting at Strike," said Liz, the parent of a 3rd-grade learner at Strike School. "It seems like the ideal combination of support, structure, and choice." 

Learn more about Strike School: Website | Facebook| Instagram | Twitter | Pinterest